You Have a Spirit, Soul, and Body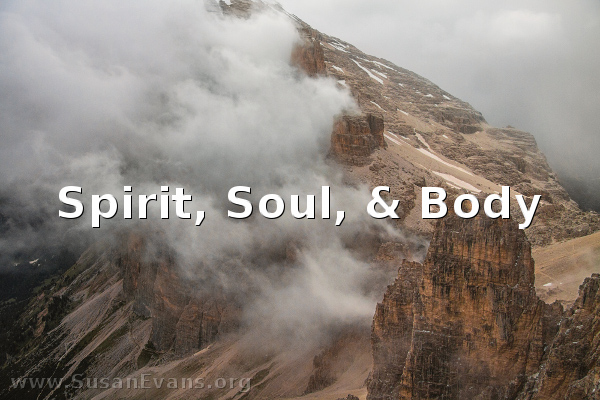 You have a spirit, soul, and body, according to Scripture: "Now may the God of peace Himself sanctify you entirely; and may your spirit and soul and body be preserved complete, without blame at the coming of our Lord Jesus Christ." 1 Thessalonians 5:23 NASB
In order to understand who we are in Christ, and how to gain victory over the flesh, we need to understand each component better. I want each of you to be able to live out your life's calling without being hindered. I drew a diagram in this video to help explain the distinctions of each component of who you are:
Our spirit: Our spirit is the most important part of who we are. The spirit is what communes with God. We are a new creation in Christ if we are saved, and our spirit is in alignment with the Holy Spirit. The core of our being changes at salvation, and we now want to please God. Our spirit goes up to God at the point of physical death.
Our soul: God's Word is able to divide between soul and spirit (Hebrews 4:12), which means that these two aspects are not the same. Our soul is earthly and needs to be trained to be in alignment with the Holy Spirit. Our soul is divided into three parts: mind, emotions, and will.
Our body: This is the outer, visible part of who we are. The flesh is contained in this part of our being, and we constantly battle the flesh because of our propensity to want comfort for our body. If we are tired or hungry, for example, it affects how we interact with other people because we can't think clearly and are seeking the selfish ends of physical comfort.
Let me explain further about the earthly soul, which includes our personality:
Your mind: This is the main battleground of the enemy. He plants thoughts in our minds, and we assume those thoughts are our own. Then we make decisions based on those wrong thoughts. This is why we must take every thought captive to the obedience of Christ (2 Corinthians 10:5).
We will rationalize sin with logic. This is another tactic of the enemy to lead our mind astray. When we think bad thoughts about someone else and stew on it and won't let it go, our minds are under attack. We need to turn those thoughts over to God and release that problem to God, who is the only one who can resolve the situation.
Your mind includes your memories, your rational thought, anything you are studying or thinking about.
Your emotions are what make you passionate about life. Your emotions can change because the more delighted you are in Christ, the less delighted you are with sin. When we are devoted to prayer and are connecting with God throughout the day, this will also affect our emotions. When we care about things of eternal value, we will not be as irritated with worldly, superficial things.
Your will can also be brought under the Lordship of Jesus Christ. If we made a decision ahead of time on how we will handle a certain situation when it comes up, we will more easily do the right thing when placed in that situation. For example, I know many people who decided that they would be sexually pure for marriage, and they achieved that goal. They did not allow themselves to be in situations that would go against their will, since their will was made up for purity. This can apply to other situations as well.
When your will is set against sin, it is WAY easier to overcome temptation!
When our spirit is ruled by Christ, we are better able to bring our mind, emotions, and will under control. And if our mind, emotions, and will are under control, we can also bring our body under control.
Is your body surrendered to Christ? You need to offer your body as instruments of righteousness and not instruments of unrighteousness (Romans 6:13). You won't be able to gain mastery over your body until you gain mastery over your mind, will, and emotions. Your mind guides what your body does. Your emotions affect what happens in your body. And your will affects what happens in your body as well.
We need to be ruled by the Holy Spirit in all of these areas: spirit, soul, and body. May we draw closer to Him in all these ways!