The Birth of Christ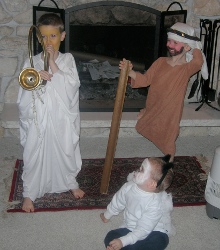 Our family is very theatrical, so one activity we enjoy doing around Christmastime is having an informal Christmas pageant at our house. No one is invited. Yes, you heard me right. I just want to have fun with my kids, and I want them to get inside a Bible character to feel the events from the Bible. Sure, I suppose we could invite grandparents and memorize lines (especially if they're pure Scripture; that would be fabulous.) But I haven't done it in front of people thus far because I didn't want it to be stressful. I wanted to relax and see what the kids remembered about the nativity story. (This is oral narration at its best, for you Charlotte Mason fans out there.) So you see, anyone can do this. You can throw together simple costumes, your kids can say whatever they remember their character saying, and your children can feel the emotion of the scene and feel like an insider to the true story of Christmas.
Costumes can be super easy. Bathrobes, towels, or sheets can be draped or pinned on. No sewing is necessary. Even simple tunics are easy to make. Fold over a piece of cloth and cut a head hole. Voila! A wonderful tunic in seconds! Tie it around the waist with a rope. Cut a scrap of cloth for the head covering, with a rope or piece of fabric to tie it in place. You can also get inexpensive costumes at Goodwill around October. A sheep or donkey costume might be nice for a younger child. I made my own sheep costume by hot-gluing fake cotton all over the back of a white turtleneck shirt. I put cardboard inside it first so that it wouldn't be glued shut permanently. Don't use hot glue like I did. Fabric glue is just as cheap and doesn't cause you to burn your fingers.
I had some cat ears that I added to my sweet little sheep, who really ought to have been baby Jesus, except that he wanted face paint. That's why I made him a sheep. We had left-over face paint from the circus birthday party we had done. Face paint is dirt cheap after Halloween. The stores will practically give it to you. (We've used face paint for our study of Native Americans and Egyptians, among other things.) Each boy wanted a different color on his face, so here's what we did: the shepherd had red face paint to indicate a sunburn. Plus, my husband gave him a moustache and beard with black face paint. The sheep had a white face with a black nose. The angel had a yellow face, since the angel was supposed to be shining in the night.
Twisted trumpets can be found at yard sales for fifty cents in the summer when everyone wants to get rid of all the Christmas stuff they're storing. Baby Jesus can be a doll wrapped in a blue silky material, maybe a scarf without a pattern. A staff for the shepherd can be any stick around your house. We used the stick that locks our sliding door. A big stick from outside is also fine.
What I love most is the emotion of it all. I say to the angel, "No, go back out and come in with a smile on your face, and more excitement, too. Your words don't match what you're saying. It's the best news ever, good news of great joy. Joy... Show me joy!" So he goes back out and comes in jumping up and down, so excited he's about to burst, with the news that baby Jesus has been born. He toots his crumpled trumpet. Meanwhile, the shepherd is laughing. "No, no! You're scared half out of your mind! There's a whole bunch of glowing angels floating in the sky, talking to you! You need to start screaming! Then the angel tells you not to be afraid." And so it goes... We live the story, and that's what I love best about it!
For more ideas on what you can do with your family during Christmastime, click here.