Ministering at Church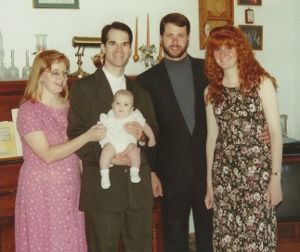 Years ago when all my children were very young, I felt bogged down by them at church. We went to a family-integrated church, where the children stay in the church service with their parents. I was not snobby about this fact, since I preferred Sunday School for the children to learn the Word of God on their level. Plus, I would be able to focus 100% of my mind on God instead of being distracted by my children swinging their legs, or accidentally kicking the chair in front of them, or dropping their crayons. But there I was. I had to make the most of it.
I was always amazed at how much God was able to use me to minister to other people when I came alone to church, when my kids were sick and my husband and I would take turns coming. I focused on the sermon, learned a lot, worshiped through song without hearing my children singing off-key and other people flinching at how bad it was. After the service, I would open my heart to God and ask Him to lead me to whoever He wanted me to minister to. I would quietly look around the room. God would prompt me to go to a particular woman, and I would go. The women I ministered to in this way were so encouraged by the words I said. It was as if God was speaking through me to these women. People said that my face almost glowed with God.
But this never happened when my small children were with me. I would be angry, walking by the flesh, trying to control the outward actions of my children. Children will keep you humble, let me tell you. It seemed to me that since God gave me my children, I ought to be able to walk by the Spirit and minister to people at church even when the children were there. I asked God how to do that. He wanted me to do what was required. This meant that it was often the will of God for me to minister only to my family. If my own children were out of control, it would have been sin for me to walk away and try to feel good about myself by ministering to a "real" person. I crucified my desire to minister to people, which was so spiritually fulfilling to me that it was almost like a drug. I realized that if I wasn't following the Spirit's leading, nothing good would come of my conversations anyway. If I was walking by the flesh, I couldn't help anyone. I must do the hard thing. I must minister to what I considered my ball and chain.
Please understand that I loved my children, and I didn't feel that they were a ball and chain Monday through Saturday, or even Sunday afternoon. I just wanted to connect to the body of Christ on Sunday morning. I needed it for my own edification. Other people had spiritual gifts that I lacked, and I felt encouraged after speaking to other people who were full of the Spirit. It seemed that the Spirit spilled off them and onto me, and I was better for it. This is why Scripture commands us not to "forsake assembling together," since people who stop going to church are embers that can soon die out and be smothered by the cares of this world and lead unproductive lives for Christ. It's scary because Jesus says this type of people will be thrown into the fire because they're worthless. (Matthew 13) It makes me tremble, because recently I've had no desire to go to church. I've been burned badly, and with everything in me I want to walk away from the pain. But my husband just won't give up. He will stay 'til death, or until God clearly leads him otherwise. He refuses to make a decision based on emotions that are coming from his flesh, which he realizes are deceptive. Honestly, I'm floored by the spiritual maturity of my husband. He never ceases to amaze me by how many times he has cast himself on God when he was at the end of himself.
Even while the children were still young, I told my husband my predicament of how I wanted to minister but felt like the children were in the way. He looked at me kindly and said, "I'll keep an eye on them." But he said that I should trust our children more, that we had trained them well, that they would surprise me if I just let them go talk to other children after the service. My fear was that they would get into trouble, and that it would reflect badly on me as a parent. I realized later that this was pure pride. I handed over my children to my husband and to God. I gained freedom that day.
I was able to connect to other women at the church more than ever before. I felt like I was an artery of the church. I could feel the pulse of the church, I prayed for the people, and I loved them with all my heart. I finally understood what the body of Christ was, and how it functioned.
My husband gave the children way more freedom than I would have. All four of my children were ages six and under at the time. But my husband came up to me and tapped my shoulder one day. He said, "Come here. You need to see this." I followed my husband down some corridors and peeked around the corner to a room where all three of my sons were packing hymnals into boxes, supervised by an adult. My children were working hard, with joy on their faces. I turned back into the corridor and covered my mouth in astonishment. My husband said, "What did I tell you? You didn't believe me."
I believe that if my three boys and rowdy girl were left to themselves, they would burn the house down. That's what I believe. When I actually see a glimmer of the Holy Spirit's work in their lives, that's when I'm truly amazed. It makes me realize that ministering in my own home is worth far more than my ministry at the church. I just praise God that I can have both.