The Little Engine That Could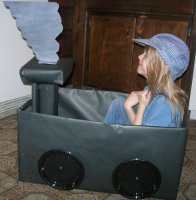 Every young child's library should include the book The Little Engine That Could by Watty Piper. Besides the colorful pictures and well-told story, it has a great moral to it: If you give something a try, you can succeed. The passenger and freight engines were too prideful to help the little train that had broken down. They boasted a list of important things that they did and then moved on. You can talk to your children about pride and humility and showing compassion to others. You could tie it in with the good Samaritan story from Jesus' parables.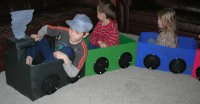 The Rusty Old Engine didn't even try to help. He said, "I cannot." This is similar to our children saying, "I can't do it, Mom!" My response is, "Do everything with all your might as unto the Lord." If you don't try, you won't be able to do it.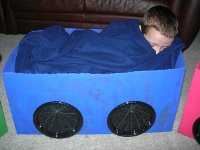 As a former English teacher and lover of poetry, I hear the sound of the words. The opening words are "Chug, chug, chug. Puff, puff, puff. Ding-dong, ding-dong." These words are onomatopoeia, or words that make a sound, so that you can hear the sound of the train as it is rumbling over the tracks. Even the repetition of the words, "I think I can—I think I can—I think I can," sound like the chugging of the train going forward.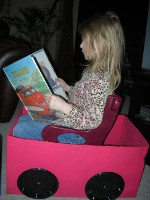 Of course, I couldn't resist making a train of our own out of boxes. I found four boxes that were the same size from Costco. We painted each car a different color, with the traditional engine black, and the caboose red. Let the kids take their time in painting. You don't have to do it all in one day, especially if they are toddlers. They can paint until they get tired of it, and resume the next day. We took a week to paint the train.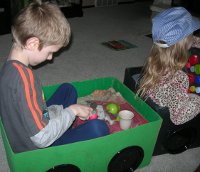 My 9-year-old didn't want to paint, but he designed the engine and was much more clever at engineering it than I would have been. He used different-shaped boxes stacked on top of each other with some fake smoke painted on some cardboard. So you can include all your children in the project, even though it's mostly for the younger kids. I put my 8-year-old in charge of designing the balcony for the caboose. He used toilet paper tubes and cardboard, but it looked so funny and ridiculous that we decided to toss it, since it wouldn't stay on. We all had a good laugh, especially my 8-year-old who thought the flopped-over balcony made the train look like a turbo-charged rocket train.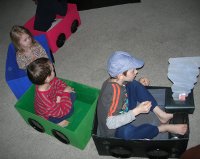 I bought small black plastic plates at a discount shop, and we used a silver Sharpie marker to draw lines across it like a star, so it would look like a train wheel. Then we stuck them to the train with brads. (I poked the holes with an ice pick.) The wheels actually moved forward when we moved the box!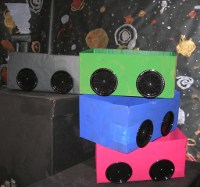 Just make sure the plates touch the ground when you put them on. We had to have a dining car with a table (small cardboard box with a scarf for a tablecloth). Plastic foods were served on a tray for the passenger who was in the dining car. The sleeping car had a pillow and blanket. We put a small rocking chair inside the caboose for more comfortable seating. My 9-year-old designed a bell with a tin can, a string, and a button. (Just use a hammer and nail to poke a hole in the top for your children.) The train conductor wore a striped train cap.
You can read other picture books about trains, or check out a video from the library about trains. You can even go on a real train ride, which we did for one of our children's birthdays. Especially if you have young boys, you should definitely read this book to them.