Time Travel: Writing Historical Fiction
Welcome, Homeschool Families! Here is your $20 discount:
If you are a homeschool parent who finds teaching writing to be hard, why not have a certified writing teacher come into your living room (or your home office) to teach your kids for you? Imagine that teacher dressing up in period costumes and making the writing assignments exciting for your kids.
You would no longer pull out your hair. You would yell, "Hallelujah! My son finally likes to write! And now he knows how to edit his own writing, all without any work on my part!"
Join Susan Evans as she teaches this online creative writing course for kids. With costumes and scenery, she brings to life each time period and shows students how to make weak writing stronger.
These are the time periods covered by the class:
Session 1: Ancient Egypt
Session 2: Ancient Greece
Session 3: Ancient Rome
Session 4: Middle Ages
Session 5: Vikings
Session 6: Pilgrims
Session 7: Revolutionary War
Session 8: Grand Finale Day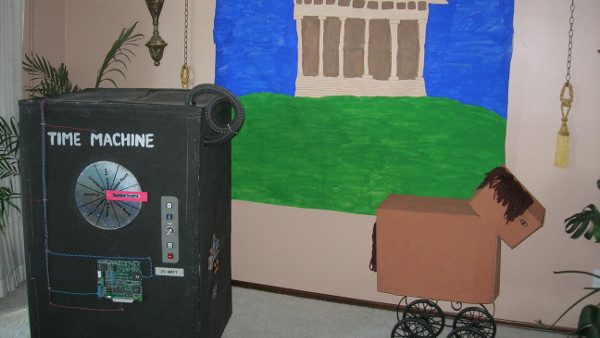 This set of 8 online classes is perfect for students ages 6-18 and can be done once a week for 8 weeks, or it can be a full writing curriculum for a year, ending with a fun novel.
Each class contains a short introduction to the time period, after which the students write the story. On a different day, the students can watch the revision section of that time period, so that they can learn how to revise their own stories!
Yes! Finally a creative writing course that teaches children how to revise their own writing with little or no work for the parent!
The children see the teacher reading and commenting on many different writing assignments for that time period, and the student then looks at his own paper and sees some of the same mistakes and is able to clarify his work.
For example, one girl ran up the winding stairs to the top of a castle but didn't tell us what the view was. Another student needed more details for the smells to make us hungry at the medieval feast. When your student sees what needs to be changed for a better story, she is able to revise her own work and become a better writer.
Testimonials
"After the first video, we fell in love with this style of creative writing. Susan is fully dressed in time period appropriate clothing in each video and we watch as she is discussing the lesson with a small group of children. They talk about the time, what we might see, or places we might go. Susan writes down topics and ideas on a small posterboard and we are able to use these as starting points and helpers as we work on our writing.
Susan is so full of energy while working on the presentation of each time period, it is just what my boys needed to help get them interested in writing. We would watch the video, talk about what they were going to do and get some ideas written down. We would than work on researching the time period and learning about it with our current history curriculum. Each time period is turning out to be a chapter in our ever growing novel.
The nice thing about this creative writing program is that it is adaptable for many ages and many styles of using it. We saw how simple it was to be able to use it with an 8-year-old and a 16-year-old and all I had to do was to change my expectations of what they had to do. I set word requirements for each of the boys since we would be working on typing each chapter before moving on to the next.
Susan also includes a nice section for the parents with tips and ideas to help us make the most of this program. I loved that she would give grading and critique tips for us to help our young ones grow as writers even better."
-Amanda Hopkins, The Old Schoolhouse Magazine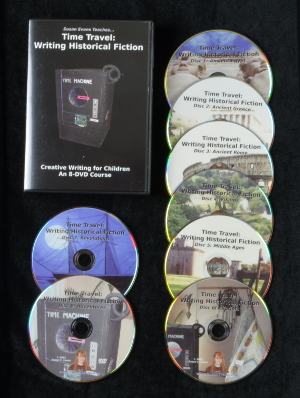 "Each time period class starts with an introduction. Susan talks to the class about the time period and the students have time to discuss things they also know. Next Susan walks around the classroom and answers any questions the students may have.
After watching both of those segments, ...it is time for the viewer to write their own paper. This is a rough draft and students are encouraged to just write and not worry about spelling and punctuation. Next there is a Revision section where Susan sits down and reads the students stories and points out the strengths and weakness of each one.
On the first three discs there are pictures of Egypt, Greece, and Rome because Susan has been there and she wanted to share her photos to help students feel they are there.
This course would be great for any homeschool family especially with multiple grade levels. It is very adaptable on how little or much time you spend on it and students can write as little or as much as they want for each time period."
- Lisa McClanahan, The Old Schoolhouse Magazine
"My kids did this years ago, it's about time to pull it out for my next batch of kids...one of the very few curricula I am reusing." - Marla Szwast, homeschool mom
This is not a physical product.
The family that purchases this online product has permanent access to the video course.
Kids will have so much fun increasing their writing skills while traveling through time! Why not buy this creative writing course today!
This creative writing set is $20 off! (Regular price $49.95) $29.95