Early Childhood Mega Pack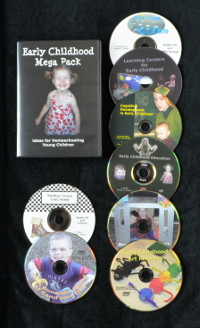 This Early Childhood Mega pack includes the following workshops:
1. Learning Centers for Early Childhood
Find out how to set up simple learning centers in your home that will help young children ages 0 to 4 to thrive in their learning. Maximize space and have creative play areas, science and art centers, sand and water activities, reading, music, and drama areas. The powerpoint presentation includes 200 pictures to clearly illustrate each learning center. This 90-minute online video workshop was recorded live at an Early Childhood Conference.
2. Cognitive Development in Early Childhood
Part of cognitive growth is the ability to think creatively. This 90-minute online video workshop presents over 100 fun, practical ideas to increase cognitive development in children ages 0-4. Recorded live at an Early Childhood Conference.
3. Early Childhood Education
This one hour video workshop was recorded at the Inland Northwest Homeschool Conference in 2010. This lively workshop includes: a dramatic reading (using different voices to read stories to to your children), sandbox demonstrations (including battle tactics of soldiers in a miniature sandbox), puppetry demonstrations (how to integrate puppets into your homeschool day), and use of costumes in your homeschool, as it relates to young children. You will also learn some easy and fun ways to jump-start your child's education.
4. The Wonderful World of Sand and Dirt
Create bridges and tunnels and waterfalls and whirlpools, all fueled by the garden hose! The pressure of the water can be adjusted according to whether your kids want a small rivulet or a raging torrent that knocks out bridges and splashes water off the rocks at the bottom of their waterfalls. This is just one out of 100+ activities from this 80-minute downloadable audio workshop with 141-page PDF slide show. Just wait until you see all the fun, wonderful, crazy ideas that you can do with sand, dirt, and mud!
5. Early Childhood Art Projects
These are 2 one-hour workshops with 2 slideshow PDF's, where I give you tips on what works and what doesn't work when doing art with young children ages 0 to 4. Out of the hundreds of art projects I've done with my small children, I've picked the best and explained how to do them. Most of the projects are super easy and can be done in about 5 or 10 minutes, and the others have several easy stages that may take a few days (to allow glue or paint to dry). The results are fun and will make your children proud of their great-looking work.
6. Mother Goose Unit Study
Did you know that Shakespeare, Benjamin Franklin, and many other writers of great literature quote Mother Goose? This is a classic, and even young children ages 0 to 4 can learn the classics. Activities for elementary-aged children are also included. This unit study is a one-hour audio workshop and a 24-page e-book with 175 hands-on ideas for Mother Goose, bursting with many pictures of the ideas described.
7. Bath Time Fun
49 fun ideas for you to make bath time an extension of your homeschool time. From swim lessons to art activities to science experiments to history lessons--all subjects are covered! For parents with children ages 0-7, you will be sure to enjoy this one-hour workshop.
These are not physical products; they are online workshops. The purchase of this product will give you permanent access to the workshops.
If you bought each of these products separately, they would cost over $70. When you buy the Early Childhood Mega Pack, you get almost 50% off, and you have enough information for a full, robust curriculum for your young children!
$39.50