England Unit Study
After living in England for three years, I grew to love this country full of castles, cottages, and rolling green countryside. England used to rule a lot of the known world, so studying England leads to an understanding of world history. Shakespeare can't be properly understood without a background in the history of England either. In this unit study, you will see what books I chose to teach my children about England. Many can be found at your library. And, of course, I show you lots of hands-on activities:
A simple paper model of the Big Ben clock tower.
Stonehenge made with blocks.
A play-doh map of England that only takes two minutes to make.
A fun slide show where I explain a few things about England.
Ideas for costumes to use in your study of England.
A simple Tower Bridge model made out of free cardboard and toilet paper tubes.
A croquet game of the Tower of London.
What tea I recommend drinking for an authentic British cup of tea.
A game you can play to learn the streets of London.
A Plinko game of the London underground that you can make, dropping a ping pong ball between some nails on a painted board.
Throw a London arcade party in your backyard! I show you how to set it up. I even show you how to make a birthday cake of the Big Ben clock tower, if you want to make this unit study culminate in a birthday party!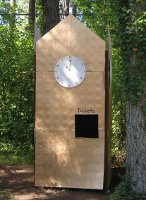 You can complete this unit study in one month or in one year. I show you how to adapt the reading for a full-year geography course, or to have a fun, one-month hands-on study of this beautiful country.
This 76-minute video workshop shows all these hands-on activities and more. You will love watching my family as we study the country of England!
$9.95