How to Write a Mystery Story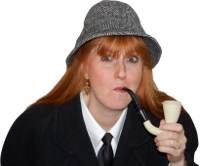 Do you have a reluctant writer in your homeschool? Has previous writing curriculum failed to engage your child? Let me do the teaching for you, with no effort on your part. Just have your children write along with the videos, and they will have a fun 10-page story by the end of the month! Imagine the expression on your child's face when showing you a well-developed story. The child or teen will no longer be intimidated by shorter writing assignments.
I have seen students in my classes who hated writing, and after this assignment, they loved writing for the first time in their lives. This is the power of writing something fun, interesting, and engaging, where the writer is guided every step of the way. This is a set of 4 one-hour online video classes for children on "How to Write a Mystery Story." It is for all ages, from 8 to 18 years old. I'm dressed up as Sherlock Holmes, and we write the mystery story in easy installments. Here is what is included:
Session 1 -- The setting and crime are woven together for a spectacular beginning. Floor plans of mansions can be observed on mystery gameboards. At the end of the session, I do a brief demonstration of spy equipment.
Session 2 -- Fingerprinting, handwriting analysis, secret messages, and other clues are analyzed. The detective arrives at the scene of the crime to collect clues and interview witnesses. We make a ring of cards for the description of characters.
Session 3 -- A skit is performed with costumes to show dialogue and surprise endings. Suspects are interviewed. Lots of ideas are supplied to make the writing fun and interesting.
Session 4 -- Ideas for revision are given to make the stories come alive even more.
I've taught this Mystery class successfully 15 times while I was a teacher. It has always been popular and well-liked. Even children who scored low the previous year in their standardized testing did really well on this assignment. The following year, the children scored much higher on the writing portion of their standardized tests, because their heart was in their writing. They were no longer disconnected and disinterested in their writing.
The classes should be shown once a week, with the result of having a finished story by the end of the month. Fifth through eighth graders should be able to write 10 pages easily, given the guided lessons. First through fourth graders will be slightly less, depending on their age. High school students could even write a novel by expanding the plot based on the guided lessons. (The students in these videos are elementary, but I've taught the same material to high school students.)

This is what one mother of two of my students said about the class: "I thought you did an absolutely wonderful job of organizing and carrying out the class. You helped the kids figure out, step by step, how to plan their plot, develop characters, and write a mystery! It was also fun for them when you talked about or demonstrated various detective techniques like fingerprints. I was so pleased at home to see the kids (without prompting from me) eagerly working away on their plot, or filling in their character cards... What a great approach!"
The family that purchases this online product has permanent access to the video course.
Writing is a skill that is desperately needed and helpful for college and for life. Invest in something fun, especially if your children consider writing to be drudgery. Your children deserve a treat in an area where they can increase a skill.
$34.95.