Integrating Art Into History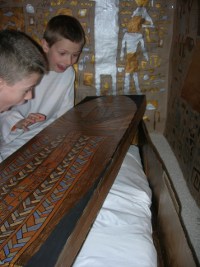 Do your kids hate the study of history? Even if your kids enjoy history, they will love it even more with these creative, hands-on ideas you will not see anywhere else. This workshop had the audience laughing so hard by the end that they were nearly falling on the floor. This fun, fast-paced video workshop includes a powerpoint presentation (97 slides) illustrating each historical art activity. Cave art, hieroglyphs, movie boxes, pottery, shoebox scenes, and more are included in this online video workshop.
These are some of the comments the attendees made after the workshop:
"Very enthusiastic presentation!"
"It sounds like you have a great time homeschooling."
"You're awesome, Susan."
"Great information."
"Lots of cool ideas."
"Great ideas... You have a tremendous gift of creativity and teaching..."
"Thank you for your energy and creative ideas!"
"What a fun homeschool you must have! Good ideas."
"Awesome."
Make this school year the best ever by investing in joyful activities to breathe life into your history class!
$9.95




**Integrating Art Into History is free when you join the Unit Study Treasure Vault.**