Overcoming Math Frustration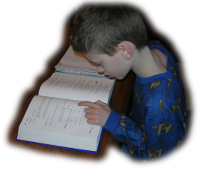 Does your child spend all morning daydreaming away his time until you want to rip your hair out? Well then, this one-hour audio workshop is for you! Having learned these things the hard way, I would love to share with you how to get your children to be more diligent with their math. This worshop includes:
11 ways to overcome math frustration. (God brought these to mind, and they are personal experiences with my children. Each of these has worked at different times, and surprisingly, some of the answers are spiritual.)
A comparison of 4 popular math programs, with their pros and cons. Sometimes frustration results from matching a child with a program that doesn't match their way of processing information, or their learning modality.
Hands-on ideas to get kids more excited about math.
"The audio is clear; and the presentation organized. Susan's voice is pleasant to the ears, with a down-to-earth, candid style. The worldview is unabashedly Christian and you will even hear a transparent testimony of the speakers' own homeschool math issue (a son who was not being diligent), the personal struggle involved (anger due to the idolatry of time), and how it was overcome. I, personally, enjoyed that testimony very much." -Dawne Shelton, homeschool mom of 5 children
You've wasted too much time already. Why wait longer when your child's math frustration can be resolved!
$5.99
**This workshop is free when you join the Unit Study Treasure Vault.**