Pilgrims Unit Study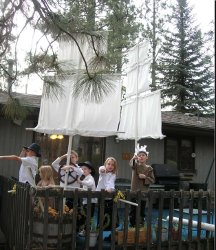 How would you like to create a Mayflower ship off your back deck, using inexpensive PVC pipe and an old sheet? Your kids will love it! And they will enjoy all the other hands-on activities in this Pilgrims Unit Study as well. What a treat to have so many fun ideas for your family this Thanksgiving!
This Pilgrims Unit Study is fun to implement during the month of November because it ties in with the first Thanksgiving. This one-hour online video workshop shows you many different projects and activities that you can do to understand the Pilgrims and what Thanksgiving is all about. (This product used to be a 36-slide PDF and audio, which I converted into a video to make it easier to watch.)
This is not a physical product. When purchased, you will have permanent access to watch the video online.
This unit study includes a downloadable list of all the hands-on activities we did, along with instructions on how to do them. $8.95




**Pilgrims Unit Study is free when you join the Unit Study Treasure Vault.**