The Very Hungry Caterpillar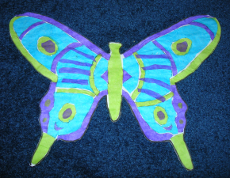 The book The Very Hungry Caterpillar lends itself very well to a unit study on butterflies. Let's start by looking at the pictures. Even though it is written for young children, the artwork inspires even high school-aged students and adults to create tissue paper art. Get a piece of white card stock paper and draw a butterfly shape. Feel free to print out the ones my son drew. Make sure you print them on white card stock paper: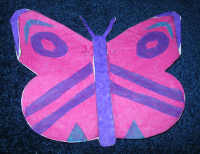 If you draw your own shape, make sure you fold your paper in half so that the sides of the butterfly are identical. Then have the student cut out the butterfly. You can teach younger children symmetry. Older children can cut complicated slices of tissue paper to glue (with white school glue) onto their butterflies, creating their own artistic designs. Or they can look up actual butterflies and draw the shape and coloring of each butterfly. One of my children made a monarch butterfly by gluing orange tissue paper over his entire butterfly. After the glue dried, he used a black Sharpie marker to fill in the details of the monarch design. You can use a black Sharpie marker to add details to your other butterflies as well.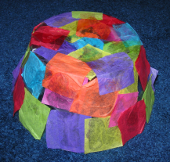 If younger children have trouble cutting tissue paper, you can pre-cut small squares of tissue paper that the child can glue down over the butterfly. (It will look like confetti.) If you have a baby or toddler, the child can glue larger tissue paper squares on a plastic bowl, placed upside-down. The bowl will look like a stained glass window. Speaking of stained glass windows, you can purchase a butterfly stained glass window kit, and your child can make a gorgeous stained glass window to give as a gift. Another idea is to buy a butterfly coloring book that has translucent pages. (Dover produces one called Butterfly Stained Glass Coloring Book.) Use bright markers for the best results.
Another butterfly craft that is super fun: get a wet coffee filter and set it on top of a paper towel on a cookie sheet. Drip colorful food dye on the coffee filter. Let it dry. Then fold it like an accordion and staple it to a clothes pin. You can paint the clothes pin black before stapling it on. You can also add pipe cleaner antennae with hot glue, and google eyes with white school glue. If you want to use it to clip notes to your fridge, you can add a strip of magnet to the back.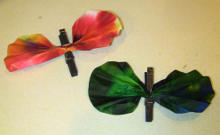 When reading The Very Hungry Caterpillar, you should make munching sounds as the caterpillar chews through the book. On the last page, flap the butterfly by opening and closing the book wildly. My children always laughed when they saw the huge butterfly flying towards them as a flapping book. Here are some of my favorite books about butterflies that I own:
Butterflies: A First Discovery Book – Clear overlays make this book fun.
My Oh My, a Butterfly (Dr. Seuss) – A fun, rhyming book containing lots of information about butterflies. (I recommend buying the entire Cat in the Hat's Learning Library, since each book contains a lot of great information presented in a cheerful way.)
From Caterpillar to Butterfly (by Deborah Heiligman) A first grader can read this colorful book to you, since it doesn't have very many words per page.
The Fascinating World of Butterflies and Moths (Barron's) – This book has great, concise information (way better than a textbook) with everything illustrated.
Butterfly Battle (Magic School Bus) – This is a third-grade chapter book about butterflies based on the cartoon series. (It contains a sentence mentioning evolution.)
You will also want a field guide to be able to identify butterflies that you find. Chasing butterflies with a butterfly net is often a fun activity, and if you place the butterfly in a large jar with a slice of orange, the butterfly should be quite happy while you sketch it into your nature journal. Make sure to watch the long black tongue (proboscis) drinking the delicious juice of that orange.
We did a re-enactment of The Very Hungry Caterpillar:
For more hands-on ideas for Early Childhood, take a look at my Early Childhood products.