Living Science: Bringing the Outdoors into Your Home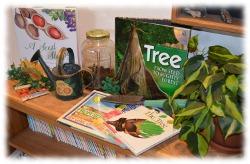 This one-hour video workshop will show you how to bring the outdoors into your home, so that your children can observe nature first-hand in a more in-depth manner, even during the winter. Find out how to bring to life different science topics, creating unit studies for your elementary-aged children. Set up science learning centers and create three-dimensional models of whatever you are studying. Make a tunnel slide for the esophagus on your stairs, traveling to the the stomach (the landing) with squirting water, then winding down the stairs through the intestines. Your science will never be the same!
These are some of the comments the attendees made after the workshop:
"Gave great advice on practical things, like on doing insects –keeping them like pets, or how to kill them quickly, as well as how to display them."
"Great! Left with lots of ideas."
"She was enthusiastic and lively."
"So motivating. Loved it!"
"Amazing! I will be in her next workshop, too!"
"Loved the variety of ideas!"
"Gonna go home and have some fun. Thanks."
This is not a physical product. The family that purchases this online video has permanent access to the workshop.
$9.95




**This video workshop is free when you join the Unit Study Treasure Vault.**